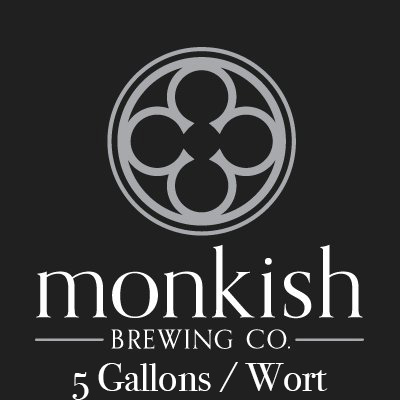 Monkish Monster Brew – 5 Gal Wort PrePayment
Out of stock
Product Description
Reserve your 5 gallons of wort today. Each 5 gallons will cost a total of $30. This $10 pre-payment is non-refundable and reserves your sweet sweet wort. The $20 balance will need to be paid on site by 11am. We expect to be sold out prior to the event so make sure you and everyone interested reserves your wort today.
If you would like to pay the full amount today please view this product.
Monster Brew Starts at 6am on June 6th at Monkish Brewing in Torrance. Breakfast (Bagels, Coffee, ect.) is included in your $30. You are not required to show up early if you are only interested in collecting your wort, but are welcome to view the entire brew process.
The recipe for the wort is 1.051OG and 25 IBUs with a grain bill of 78% domestic 2row,  12% flaked oats,  5% Vienna, and  4% acid. Please bring your sanitized brew buckets, kegs, or any other plastic sweet wort holding container you may like. Absolutely NO GLASS.
For details visit our Monkish Monster Brew 6/6 Blog Entry.